CipherTrust Data Security Platform — As data breaches continue at alarming rates, securing sensitive data is critical to all organizations. In addition, organizations struggle to stay compliant with evolving global and regional privacy regulations, and securing the cloud in the face of accelerated adoption brought on by the new demand to support tremendous number of remote employees. IT security organizations seek a data-centric solution that secures the data as it moves from networks to applications and the cloud. When perimeter network controls and endpoint security measures fail, protecting data at rest is the last line of defense.
The CipherTrust Data Security Platform integrates data discovery, classification, data protection and unprecedented granular access controls, all with centralized key management. This solution removes data security complexity, accelerates time to compliance, and secures cloud migration, which results in less resources dedicated to data security operations, ubiquitous compliance controls, and significantly reduced risk across your business.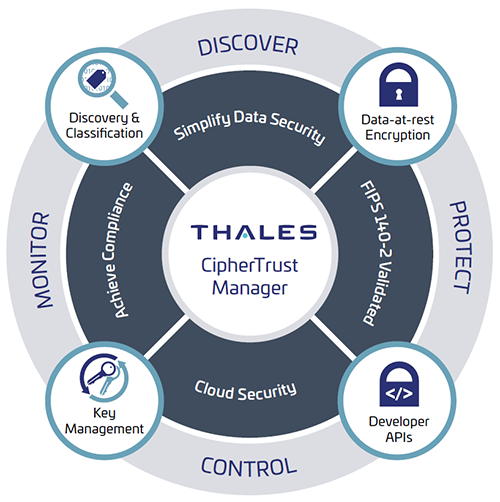 Benefits:
Simplify Data Security

Discover, protect, and control your organization's most sensitive data on-premises and in the cloud on an integrated data security platform.

Accelerate Time to Compliance

Comprehensive data security capabilities, including data discovery and classification, encryption, granular access controls, audit logs, tokenization, and key management support ubiquitous data security and privacy requirements.

Secure Cloud Migration

Confidently move workloads to the cloud and hosted environments, and repatriate data back on-premises, knowing that your data remains in your control.
Key Capabilities:
Data discovery and classification

Risk analysis with data visualization

Data protection techniques

Transparent encryption for files, databases, big data, and containers
Application-layer data protection
Tokenization with dynamic data masking
Format preserving encryption
Static data masking
Privileged user access controls

Centralized enterprise key management

FIPS 140-2 compliant
Multi-cloud key management
Unparalleled partner ecosystem of KMIP integrations
Database encryption key management (Oracle TDE, big data, MS SQL, SQL Server Always Encrypted, etc.)

Monitoring and reporting

Centralized enterprise key management
To find more for the best solutions for your data protection or any inquiries please let us know here
Related Source: