Back to Event
ARTHATEL DATA SECURITY SEMINAR 2018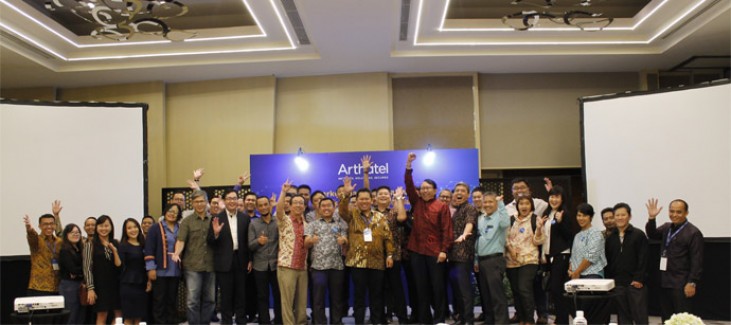 ARTHATEL DATA SECURITY SEMINAR 2018
Jakarta, March 14, 2018 – Development and adoption of IT in businesses has spurred in recent times thanks to the green-light given by the Government, OJK, and Bank Indonesia. Coupled with technological advancements, mobile technology simplifies transaction for both businesses and consumers. From humble beginnings in mobile-based transactions, demand has shifted towards a simple, secure, and legal digital document processing.
In essence, digital signatures aren't recent innovations, for it was first described way back in 1976 and first offered in commercial software in 1989. Nonetheless, the idea of a digital non-ink signature is an idea recently floated in Indonesia as it was only recognized – and regulated – by the Government in 2008 under Article 11 of the Information and Electronic Transaction Act of 2008. Further dissemination of the idea is needed to highlight issues surrounding digital signatures and its supporting infrastructure, the digital certificate and public key infrastructure.
Arthatel has organized the 2018 Data Security Seminar on 14 March 2018 at the Pullman Hotel, Jakarta. Bapak Nugroho, Commissioner of Arthatel, in his opening remarks, said that the seminar aims to foster closer ties with consumers, current and future, as well as discussing current issues in data security and data protection.
Arthatel invited three speakers to the seminar, Bapak Bisyron Wahyudi, Deputy Chairman for Application Database and Data Center of IDSIRTII (Indonesia Security Incident Response Team on Internet Infrastructure), Bapak Riki Arif Gunawan, Head of the Information Security Sub-directorate at the Ministry of Communications and Informatic, and Mr Jiro Shindo, Senior Product and Field Marketing Manager Thales.

Opening the talks was Bapak Bisyron Wahyudi, who discussed the importance of information security for companies and hard data concerning data security. He added that regardless of how sophisticated the data protection of a system, human users are always the weakest link. Despite the pessimistic view, Bapak Bisyron Wahyudi concluded that good control, audit, leadership, and trainings are effective in reducing unwarranted risks.
Bapak Riki Arif Gunawan continued the seminar with a talk on digital signatures. Speaking for "Securing Digital Identities Using Digital Signatures," Bapak Riki discussed the legal position, challenges, and implementation surrounding digital signatures. Given that current legislation has regulated non-ink electronic signatures, digital certificates, and public key infrastructures, the only challenge remains in widespread implementation.
Mr Jiro Shindo's presentation succinctly responds to the concerns and challenges posed by Bisyron Wahyudi and Bapak Riki Arif Gunawan. Mr Jiro Shindo, Senior Product and Field Marketing Manager Thales, shared his experience in current trends in data breaches and its mitigation for corporations. He concluded his talk by remarking that Arthatel, as a company that works in data protection and data security, offers a number of proven, tailored solutions and applications to simplify the data protection and data security processes (Thales Vormetric) and digital signature implementation (Entrust Datacard).
The seminar was attended by some 45 people who work in the banking, financial, and e-commerce industry as well as government officials. In addition to the seminar and discussion, participants were offered door prizes, souvenirs, and catered lunch, all rolled into a relaxed and casual atmosphere.