Back to Event
Realta Business Symposium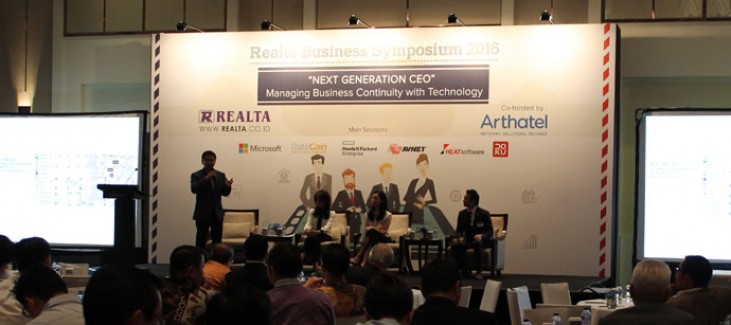 Arthatel had the opportunity to support the Realta Business Symposium which was held by PT. Realta Chakradarma, one of the leading ICT companies in Indonesia. The symposium was held on August 4, 2016, at the Fairmont Hotel, Jakarta, and was attended by 180 invited guests consisting of business owners, founders, CEOs, hotel owners, and executives from manufacturing, transportation and logistics, property, hospitality, trading and distribution. All the guests could join the discussion about sharing stories of business owners, and also knowledge and insights about ICT business.
On this event, Arthatel delivered a presentation entitled "Efficiency Profit through Managed Services." Arthatel also provided brief information about the company and explained Arthatel's flagship products, which is a managed service that delivers IT solutions to support the needs of companies. This presentation was delivered directly by Mr. Daniel Suryo as Managed Services Manager and gained tremendous attention and enthusiasm of the participants with many questions about managed services.
Besides giving support for this event, Arthatel also cooperates with Realta to create a bundle product on creating end-to-end solutions for hospitality. The cooperation that Arthatel and Realta undertakes is as follows:
1. Kiwire System – Internet Hotspot System Integrated with Hotel System
With Internet Hotspot System which is integrated with PMS (Property Management System), it can improve the quality of the convenience of hotel guests in business activities and hotel promotions.
2. Affordable Back up & Restore for Rhapsody Hotel
With PMS Cloud Backup Services, business does not require on premises physical server backup investments. The hotel only needs to pay monthly subscription fee for this services.
3. All-in Multimedia Delivery Solution
We continuously build a solution that is specific to key business areas with robust set-top box and platform, user- friendly remote control, and user interactive graphical interface.
For more information about services and products of Arthatel, all visitors could visit Arthatel exhibit booth in the voyer area. The enthusiasm of the visitors to Arthatel was quite high, judging by the crowded Arthatel booth with many questions directed to the sales team.